welcome to my world.... 


Welcome to Burj Al Arab

Arrive in absolute awe, stay individually inspired.

In it's relatively short tenure on the Dubai coastline this legendary and symbolic hotel has attracted international attention and awe, ensuring its place as one of the most photographed structures in the world. Designed to resemble a billowing sail, Burj Al Arab soars to a height of 321 metres, dominating the Dubai skyline. Illuminated at night by choreographed lighting representing water and fire – Burj Al Arab is simply individual, inspired, impressive.

This all-suite hotel reflects the very finest that the world has to offer. With your chauffeur driven Rolls Royce, discreet in-suite check-in, private reception desk on every floor and a brigade of highly trained butlers, you can be assured of the ultimate in personal service throughout your stay.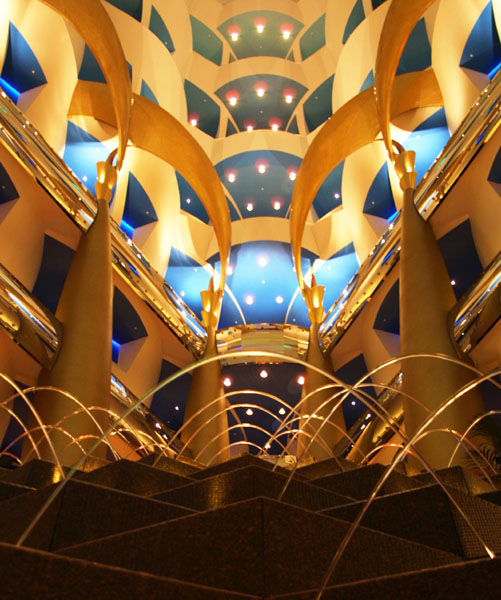 Identification
Name

Burj Al Arab
Alternative name
برج العرب, Arabian Tower, Chicago Beach Hotel
Emporis Building ID
107803
Location

Address as text
*
City
Dubai

State
Dubai
Country
United Arab Emirates

Map and Surrounding Area
Imagery ©2009 DigitalGlobe, GeoEye - Terms of Use
Map
Satellite
Hybrid
Technical Data
Height (tip)
*

Height (architectural)
320.96 m
Height (roof)
*
Floors (above ground)
60
Construction start
*
Construction end
*
Elevators
*
Units
*
Construction costs
*
Structure in General

Construction type

skyscraper
Current status

existing [completed]

Structural material
steel

concrete
Architectural style
structural expressionism

Official website
http://www.burj-al-arab.com/
Now available and only here!
View this building during its construction process.

Usages

Main usages
hotel

Features and Amenities
Helipad is available
National landmark
One of the city's famous buildings

Facts
A 24 meter (79 feet) wide helipad projects from the building 210 meters above the ground.
Burj Al Arab is the world's tallest structure with a membrane facade.
This is the tallest operating hotel building in the world (not counting mixed-use buildings like Jin Mao Tower in Shanghai or the unfinished Ryugyong Hotel in Pyongyang, North Korea).
"Burj" is Arabic for "Tower".
The building's external lighting schemes, from white light to a multicolored one, change from one to another every 30 minutes expressing the evening's progress.
The building's design is influenced by the profile of an Arabian sailing ship.
The Al Muntaha restaurant is located 200 metres above the Persian Gulf, offering great views of Dubai. It is accessed by a panoramic elevator.
The atrium is 180 metres high, one of the tallest in the world.
The hotel features a total of eight restaurants and bars.
All of the hotel's 202 rooms are two-storey suites, ranging in size from 170 square metres (1,830 square feet) to 780 square metres (8,396 square feet).

Companies involved in this building
Emporis Premium Companies:
Depa Ltd. (interior fit-out)

architect: WS Atkins & Partners







its 4 u .. its onder .. [:)]
its design just rocks.. [:)]


U can see this hotel from Google earth
i just love it [:)]
me.... kamran .. n its my dream